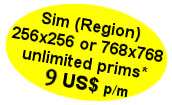 Order Land


Free Land in OSgrid

Sept.6,2022
With tears in our eyes Swondo had to stop the Freelands project after more then 12 years because it became too expensive. Checking and communicating the, often unintentional, over-use took up too many hours which increased every year.

Current Freeland landowners, of which some are living on their land for over 10 years, are offered a special deal.

We are going to replace Freeland for TinyBudget land although we have to think of a good name. Currently the website and some inworld places still show Freeland. We are working on getting that out. One of the problems we faced were that finding out which landowner was over-using could not be automated. This mainly because multiple landowners shared a Region. Inworld changes are made to the Freeland regions to make them ready to be leased out with only one leasing landowner per region.


The Boardwalk regions remain available for special projects including offering land for free to people with concrete ideas-projects to increase social activity in OSgrid.





-->



The Free Lands are meant for people who like to create a home in a well designed neighbourhood with spending just a little or no money.
Swondo offers land for every budget. At no charge, beautiful large parcels are made available with 500 prims of which 75 prims (15%) can be light mesh prims.

Why does Swondo offer land for free?



Free parcels are available in mediterranean or tropical climate regions(sims).

To create a nature feel, there are already trees, flowers and grass on the land.
All parcels have a sky-garden and some parcels come with a non-removable house. More about Prims, House and Sky-garden



There are some requirements

to get and keep Free Land.

Parcels can be upgraded to more prims at any given time starting at just
5 US$ per month for +1400 prims(1900 total). Extra prim options and costs.



There are a few differences with leasing a complete region, because one shares the region with 4 or 5 neighbours. Read Free Land rules & guidelines.




Below some photos show a house on the land even though it says that the land comes without. In those cases the photo is taken while the land was inhabited.

Parcels marked with a * are special projects.

Different rules & guidelines are in place.


Steps to aquire your Free Parcel: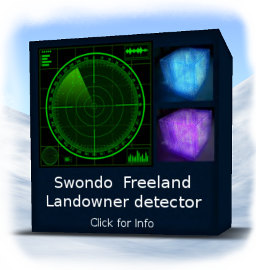 Free vs paid land

Detector info



Extra prims on Free Land (Prims-Lease)

Marks that a click opens a pop-layer.
You do not leave the page.


Tropical climate at Paradise Islands & Pradise Retreat

January 10, 2019: We stopped Freeland in Metropolis because the future of this grid is unsure. We soon will be expanding OSgrid Freeland

Application for Swondo Free Land



| | | |
| --- | --- | --- |
| Your Avatar name | in: | Your avatar grid (world) |
| Your e-mail address | | Your preferred language |

Your parcel choice(grid, region, parcel, reg.nr.)
??
No Parcel
selected

Applying for Freeland is switched off. It is not sure yet if and when this wil come back. Keeping over-use under control seems to be impossible. We are looking into the matter.


At sending this form, respond via e-mail can be expected within 10 hours.
Thank you for choosing Swondo Estate.




Steps to aquire your Free Parcel:


With sending this form you acknowledge reading and agreeing the ''Swondo Covenant'' and the ''Free Land Rules & Guidelines''

As you may noticed we have stopped offering Freeland in Metropolis for now.

Land is only set 'for sale' inworld after an apply is approved and the confirm e-mail is send.