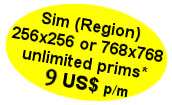 Order Land

Regions with example landscapes which can be chosen at sim lease

| | | | | | | |
| --- | --- | --- | --- | --- | --- | --- |
| | | | | | | |
| Flatland | Flower Island | Zell Island | Swondo Island | Swondo Tropical | Swondo Mountain | Tropical Mountain |
These regions have landscapes and vegetation which can be chosen at setup of a new region lease.
This way someone, who wants to lease a sim, can feel the different landscapes before the setup.
Landscape, vegetation and groundtextures can be altered at wish of course.
More information about leasing can be found at OSgrid information
The land order page has more photos of these regions.

If the example region is part of The Boardwalk around Lbsa, then the land can be used for a special project also.
Everyone is invited to visit, have meetings or just hangout and enjoy the nature on these regions of course.